Preventive Maintenance
P reventive care can help protect both your safety and the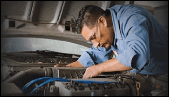 investment made in your vehicle. A regular maintenance service can help you avoid costly repairs. We recommend following your vehicle manufacturer's maintenance schedule in order to care properly for your vehicle. We know what to do to extend the life of your vehicle and help you avoid costly repairs.
Radiator Repair & Service
The purpose of your radiator is to keep coolant flowing throughout your engine. If there is a blockage or a leak, your engine can quickly overheat and your vehicle will break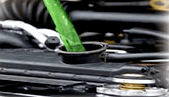 down.
Coolant leaks are caused by cracked or ill-fitting hoses or a hole in the radiator itself. Radiator metal is thin and easily damaged, but the number one cause of coolant leaks is corrosion. We recommend having your coolant system professionally inspected at least once a year.
A flush and fill is a critical part of routine maintenance. Coolant is very caustic. Left in the radiator for too long, it will begin to corrode the metal, and could cause a potentially disastrous leak. If we detect any coolant leaks we can repair them or replace the damaged part.
Oil & Filter Changes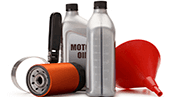 It is recommended that you change your oil every 3 months or 3,000 miles to help keep your car running at peak performance, to get a better mileage out of your car and to ensure it drives properly.
At Balian's Auto Sales, Inc. Recommends using synthetic oil which protects your engine and enhances your car's performance. Synthetic oil is resistant to heat and viscosity breakdown. We also have high mileage oil which helps to keep older vehicles running smoothly and for longer.
In addition to changing the oil in your vehicle, our expert technicians can take care of your fuel filter, lube, radiator, antifreeze. We will also give you a complete vehicle inspection for free when you come in for your oil change.